AIR FREIGHT AGVs
INTELLIGENT MOBILE ROBOT
Automated guided vehicles (AGV) for the transport of ULD containers, batch baggage, and cargo pallets
Our Air Freight AGVs are designed to safely and efficiently transport luggage or other loads
(ULD container, cargo pallets) from one area to another area.
a variety of applications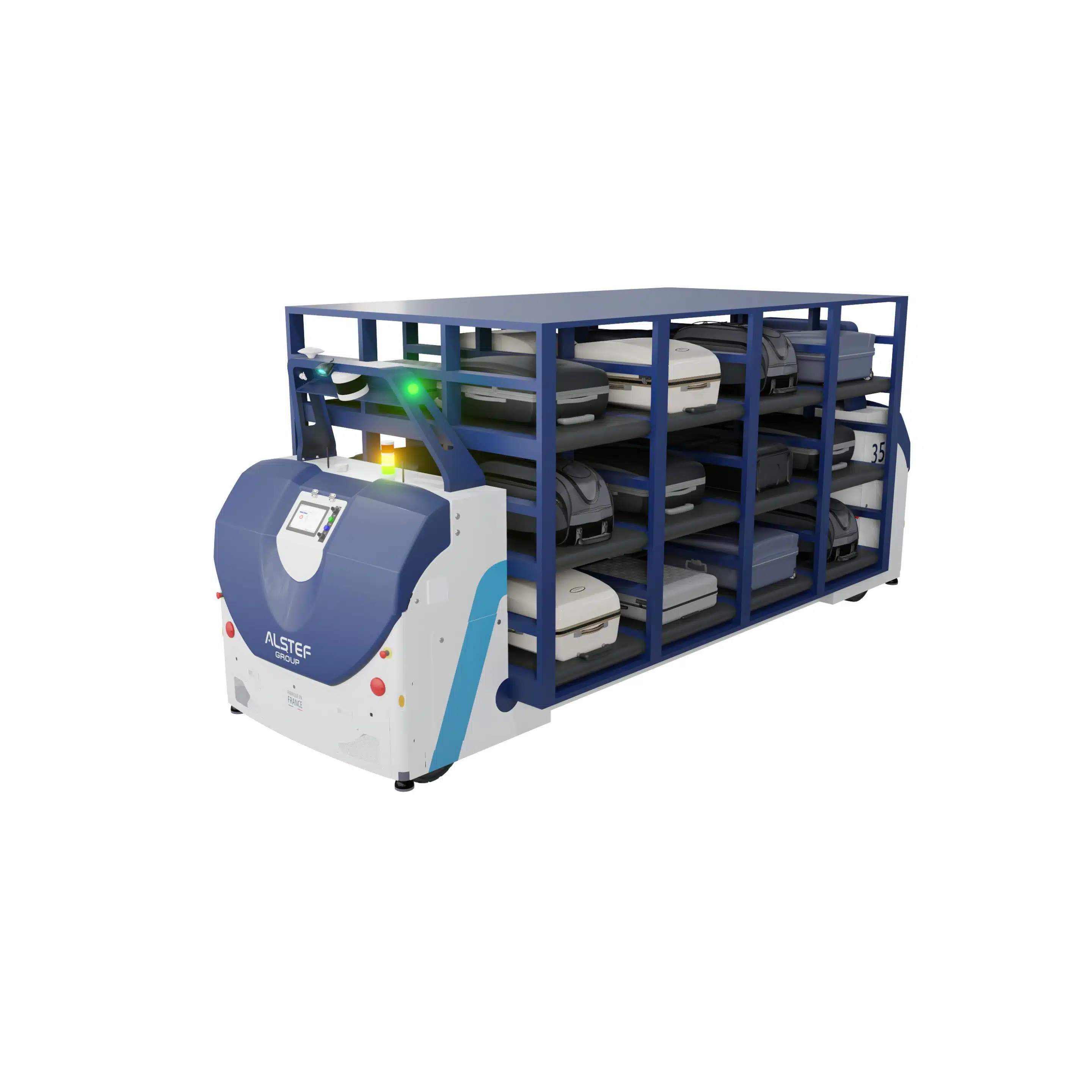 TRANSPORT ULD CONTAINERS SUCH AS AKC, AKE, aKH, DPE
transport cargo pallets and containers
transport baggage in batches (24 units)
COMPLETE CONTROL
With extensive expertise in mobile robotics within the intralogistics industry, and over 60 years of experience in baggage handling systems, Alstef Group offers a full range of AGVs (Automated Guided Vehicles) for the transport of ULD containers, batch baggage and cargo pallets to automate and optimize the efficiency of your terminal activities.
Complete control with the advantages of a tailor-made solution:
• Our AGV solutions are adaptable to load types and environmental factors. They can operate in covered outdoor areas in temperatures between -10°C and +45°C and are compliant with the 250h BS (Salt Spray) standard.
• A durable and sturdy fleet, with an average vehicle lifetime of 45,000 hours.
• Total control of the fleet supported by advanced localization and navigation technologies.
• Ease of maintenance with quick access to components and the ability to remove individual AGVs from the fleet without impacting operations.
Lithium battery high speed charge opportunity charging
fast load transfer from 15 to 25 seconds travel speed of 2M/sec
INTEGRATION WITH CYBER SECURITY REQUIREMENTS
AGVs OPERATE IN AREAS WHERE TRAFFIC IS SHARED OBJECT/PERSON DETECTION
PICK-UP AND DROP-OFF ACCCURACY +/- 20 mm