AIR CARGO HANDLING SYSTEMS
Holistic solutions for optimising your terminal activities
As the industry leader of airport material handling systems and logistics, Alstef Group understands the importance of efficient and reliable operations in air cargo terminals. We offer comprehensive solutions that are designed to optimize your terminal's flows and enhance productivity.
Through our global partnership with SACO, a renowned specialist in air cargo ULD handling and storage equipment, we provide a seamless end-to-end cargo handling system. This partnership allows us to combine our expertise and resources to deliver tailor-made solutions that meets your specific requirements.
Our team of experts will work closely with you throughout the entire process, from the initial planning stages to the final implementation. We consider the unique needs and challenges of your air cargo terminal, ensuring that our solutions are customized to maximize efficiency and minimize disruptions
AIRSIDE & LANDSIDE TRANSFER
FOR ULD & AIRFREIGHT PALLETS
Truck docks & Dolly docks

tailored to your handling requirements

For smaller 5-foot containers up to 20-foot pallets
Various options available such as height adjustment, side shifting, weighing
Sequencing and weighing system also available
For iso pallets
Truck docks tailored for ISO pallets handling
800 x 1200 mm
40 x 48 in
and more…
Sequencing and weighing system available
FOR ULD & AIRFREIGHT PALLETS
  . More detailsOur Automated Guided Vehicles (AGVs) AVILOAD & AVILOADXL are designed to safely and efficiently transport ULD containers and cargo pallets.
Notable benefits :
Versatility in handling various load types and adaptability to different environmental conditions.
Ability to operate in covered outdoor spaces within a temperature range of -10°C to +45°C, meeting the 250h BS (Salt Spray) standard for enhanced durability.
Long-lasting and robust fleet, with an impressive average vehicle lifetime up to 45,000 hours

Comprehensive fleet control facilitated by advanced localization and navigation technologies

Convenient maintenance with easy access to components and the flexibility to remove individual AGVs from the fleet without disrupting operations.
AVILOAD:
Travel speed of 2 m/sec
Adaptable to different types of ULD (AKC, AKE, AKH, DPE…). More details
AVILOADXL:
Travel speed of 1.5 m/sec
Adaptable to 10-feet long air freight pallets (PP, LD9, A2,…). More details
For iso pallets
LOADSTAR – Single pallets transport solution
Compact yet sturdy, Loadstar is designed to efficiently handle pallets weighing up to 1400 kg while also offering floor space savings of up to 20%. This AGV-AMR solution serves as a versatile alternative to conventional conveyor systems, introducing enhanced flexibility and responsiveness to systems with dynamic flow fluctuations. 
Emphasizes horizontal transfers as a more efficient alternative to traditional conveyors

Modular design ensures compatibility with a wide range of existing environments.

Streamlines order preparation processes, optimizing overall efficiency. More details
GL – Fork over lift vehicle 
The GL seamlessly integrates into production lines and provides proximity to operators, enhancing operational convenience.
Ideal for narrow spaces, making it well-suited for compact environments

Agile and efficient, these AGVs excel at operating within the heart of production lines

Specifically designed for smooth infeed and outfeed of products.
Capable of handling a substantial load capacity ranging from 1200 to 1400 kg. More details
FOR ULD & AIRFREIGHT PALLETS
For iso pallets
We have a complete range of conveying systems.
For decades, our conveying systems have been reliably transferring and accumulating loads on-site.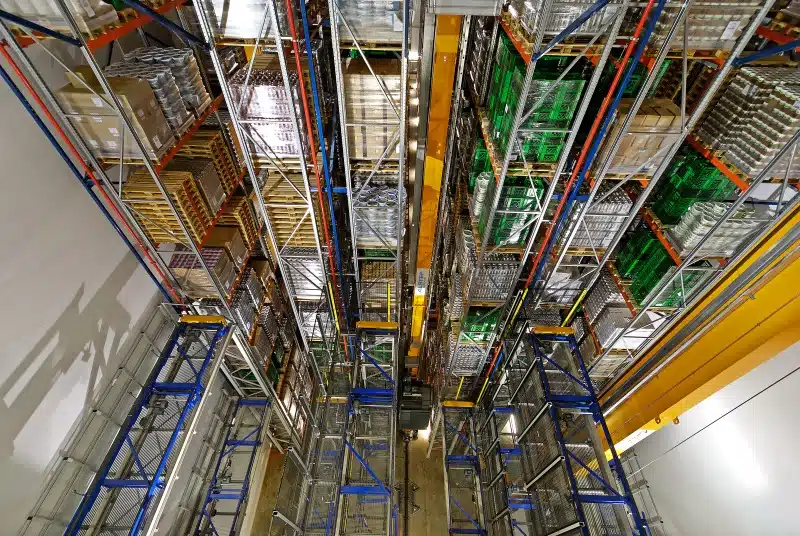 FOR ULD & AIRFREIGHT PALLETS
Single-level storage deck systems with friction-powered roller decks

Adapted for small-capacity storage​
Elevating Transfer Vehicle (ETV)
Multi-level storage deck systems with friction-powered roller decks (up to 4 levels)

Adapted for large capacity
For iso pallets
AGV operating in narrow aisles
Due to its retractable forks, the vehicle remains compact in size, enabling it to navigate through narrow aisles and effectively maximize storage capacity. Its design prioritizes both safety and performance, setting standards in the market. 
Up to 

2.5 m/sec

– 

travel

 speed

​

Last drop-off 

level

: 

9 m

​

Load

 

capacity

: 

1400 kg

​

Minimum 

aisle

 

width

: 3100

 mm
The GT16 is specifically designed to cater to the demands of automating very narrow aisle (VNA) storage. It excels in picking up and dropping off loads laterally to optimize the use of limited space. 
Up to 

2.5 m/sec

– 

travel

 speed

​

Last drop-off 

level

: up to

12 m

​

Load

 

capacity

: 

1200 kg

​

Minimum 

aisle

 width:

1900 mm
High adaptability, high density of storage, high flow rates performance
Up to 

240 m/min 

– 

travel

 speed

​

Up to 80 m/min – lifting  

​

Shelving

 

heights

 up to 35 m 
BUILD UP & BREAK DOWN STATIONS
FOR AIRFREIGHT PALLETS AND ISO PALLETS
Air Freight pallet build-up break-down stations 

​

Build-up & preparation of ISO pallets 

​

Weighing system available

​

Ergonomic features 

​

Integrated safety

features
OPAL, A DEDICATED SOFTWARE SUITE
OPAL is a Warehouse Control System (WCS) and AGV fleet management solution designed with a secure, interoperable, and scalable architecture. It enhances the performance and optimization of terminal activities in real-time.
OPAL CONTROL acts as a conductor for efficiently managing storage, AGV fleet, transit, and order preparation management.
OPAL NOTIFY generates alerts and notifications for functional events and incidents-related matters in your installations.
OPAL ANALYTICS provides an operational dashboard, KPI, and reporting for both real-time supervision and long-term analysis.
OPAL IT MONITORING  ensures continuous monitoring and detection of any IT incidents and anomalies on servers, networks, databases.
implementing your INDUSTRIAL cybersecurity policy
Alstef Group, as a distinguished designer and integrator of automated solutions, has devoted extensive efforts to enhance cybersecurity in baggage handling systems for the airport industry and intralogistics clients. Over the years, we have developed solutions that align with our clients' industrial cybersecurity policies, safeguarding sensitive data and valuable assets from potential threats. Our commitment to security ensures a reliable and secure environment for our customers' operations.
EXTENSIVE O&M EXPERIENCE
+20 Airports with O&M onsite teams

​

Multi-terminal O&M

contracts

in Paris CDG and Nice NCE

​

Long-term contracts (up to 20 years)

​

Experience with multi-technical O&M contracts (BHS, Airbridges, Ground Power Units,

Visual Guidance Device Systems, walkways, …)
Air France Cargo, one of the world's largest air freight hubs, owns a fleet of 30 Alstef Group AGVs to handle and transport 600 pallets a day, 24/24 on a 12-hectare hub.