Main Features
Localization systems: laser, optical, magnet …
Navigation by targets, free navigation or mixed navigation
Loads: from a box (400mm x 600mm) to an aircraft fuselage part
Capacity: from a few kilograms to several tons
Stacking height: up to 14 m
Batteries: Lithium-Ion, lead, pure lead or gel
Speed: up to 2.5 m / s
Tailor-made options
Specific tools: clamps, pressers, double forks, telescopic forks, load stabilizers, long forks, sideshifters, fork positioners …
Barcode identification or Datamatrix readers, RFID tags, etc.
3D camera systems
Battery changing system: Autoswap® (automatic battery change), or Opportunity Charging
safety
Safety by laser scanners, horizontal or vertical, at front or on side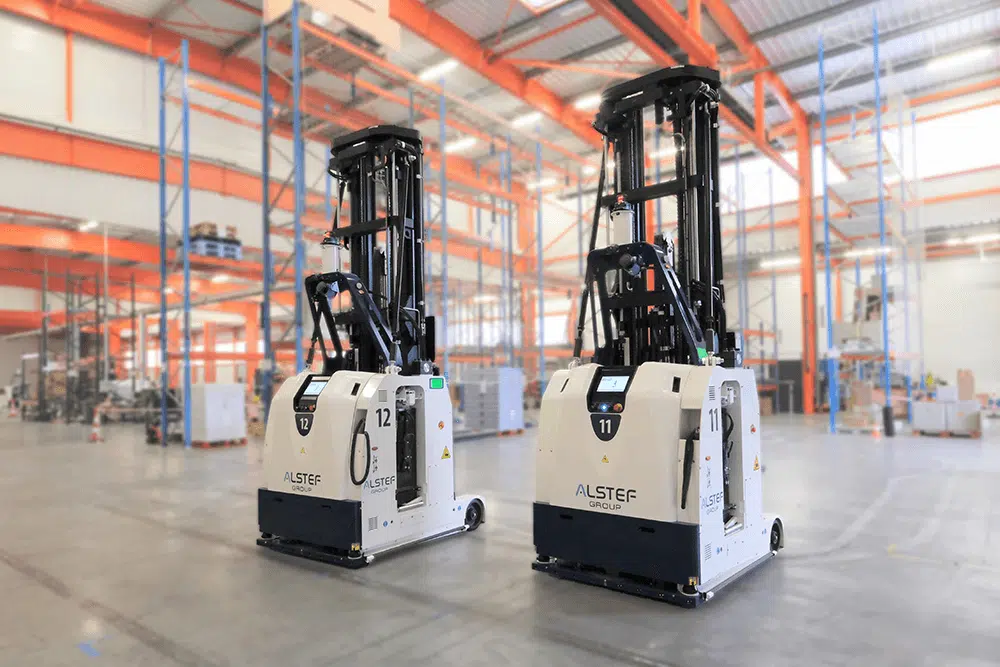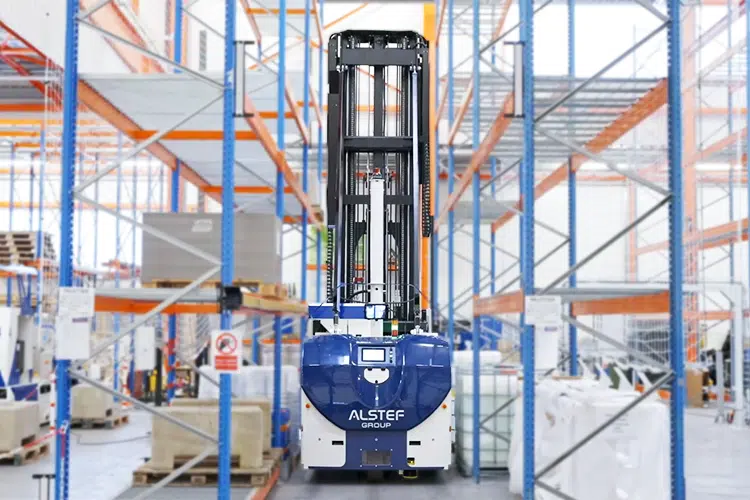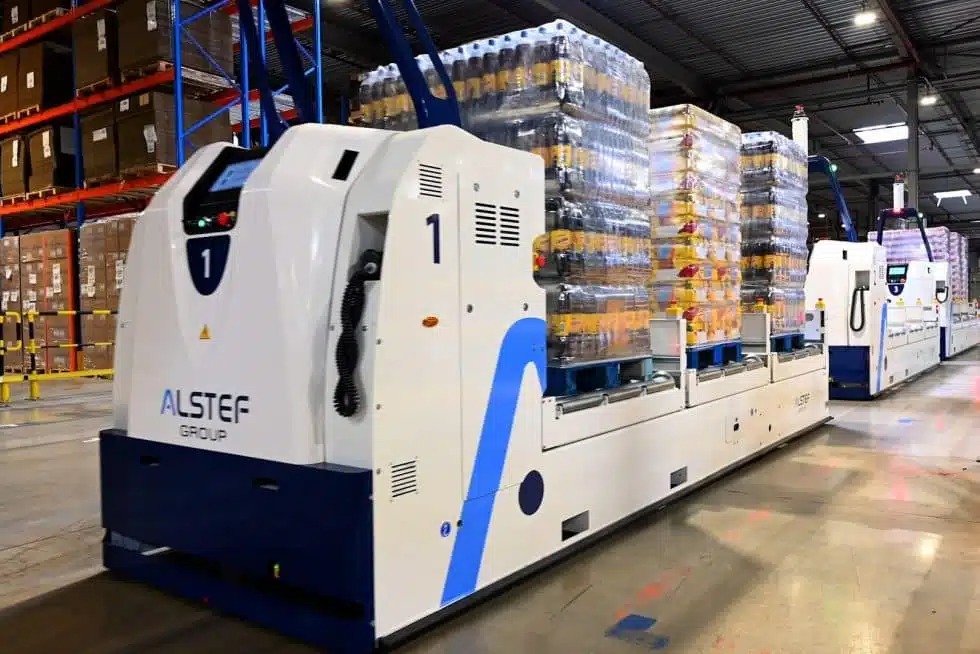 GL – Fork over lift vehicle
The compact and versatile AGV
The GL easily operates at the core of the production lines and close to the operator.
Suitable for narrow environments,
Agile, these AGVs operate at the core of production lines,
Particularly suitable for the infeed or outfeed of products.
Technical details
Overall width: from 800 to 1000 mm
Stacking height: from 1000 to 3000 mm
Electric & hydraulic lifting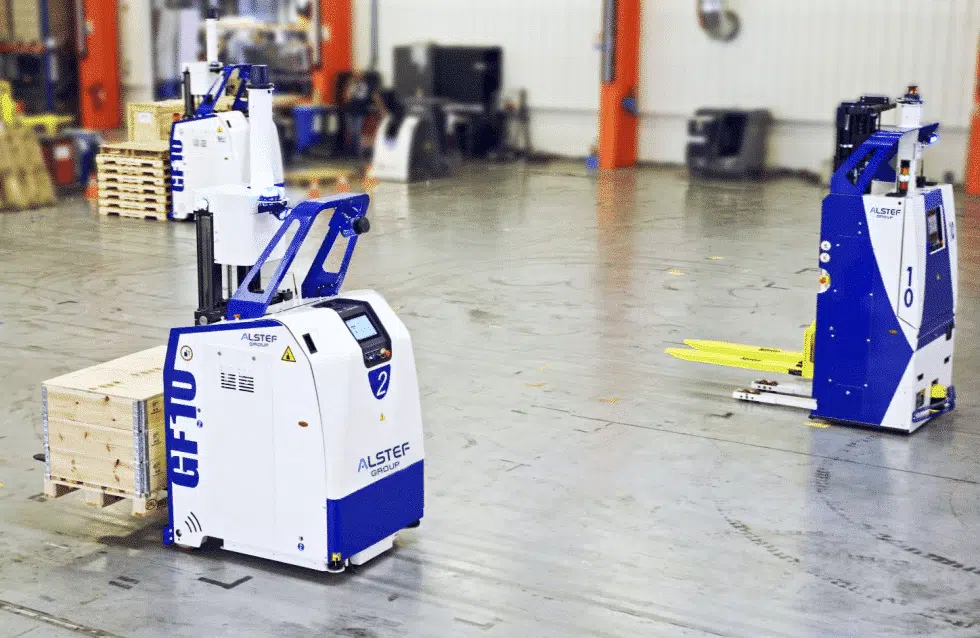 GF – Counterbalanced forklift
The versatile AGV
This automated vehicle is able to transfer a wide range of loads, including peripheral pallets and is compliant with any type of interface: shelving, conveyors, ground locations, etc.
The GF10 range
The advantages of a fork-over-lift AGV in a counterbalanced forklift
Beyond the intrinsic performance of counterbalanced trucks, the GF10.1 ensures optimum compactness allowing it to operate in constrained environments. It is equally well adapted to production lines, docks, and storage interfaces.
With 360 ° safety, GF10.1 guarantees the integrity of your loads, the safety of operators, while remaining efficient in terms of speed.
Technical details
Overall width: 1000 mm
Stacking height: up to 1500 mm
Aisle width 3200 mm
Electric lifting
Li-Ion or lead-acid batteries
The GF12 range
Flexible and modular, the GF12 is particularly suitable for carrying variable loads: in dimensions, form, or shape – pallets, steel frames, rolls, horizontal or vertical reels, etc.
Technical details
The GF12 are compliant with all types of interfaces (shelving, ground locations, etc.)
Stacking height: 8000 mm
Available options: side shift carriage, tilt, positioner, spreader, loads stabilizer, clamps, mono / multi-fork carriage, etc.
The GF2 range
Compact and modular, the GF2 can adapt to many industrial applications. Responding to the growing need for very high production rates, mass storage and heavy load transport, the GF2 simultaneously transports one or two loads and ensures preparation of high volume shipments.
Supplied with 360 degree safety equipment, it moves safely within your work environment.
Technical details
Overall width: 1650 mm
Stacking height: up to 6500 mm
Maximum transportable mass : 2 x 1400kg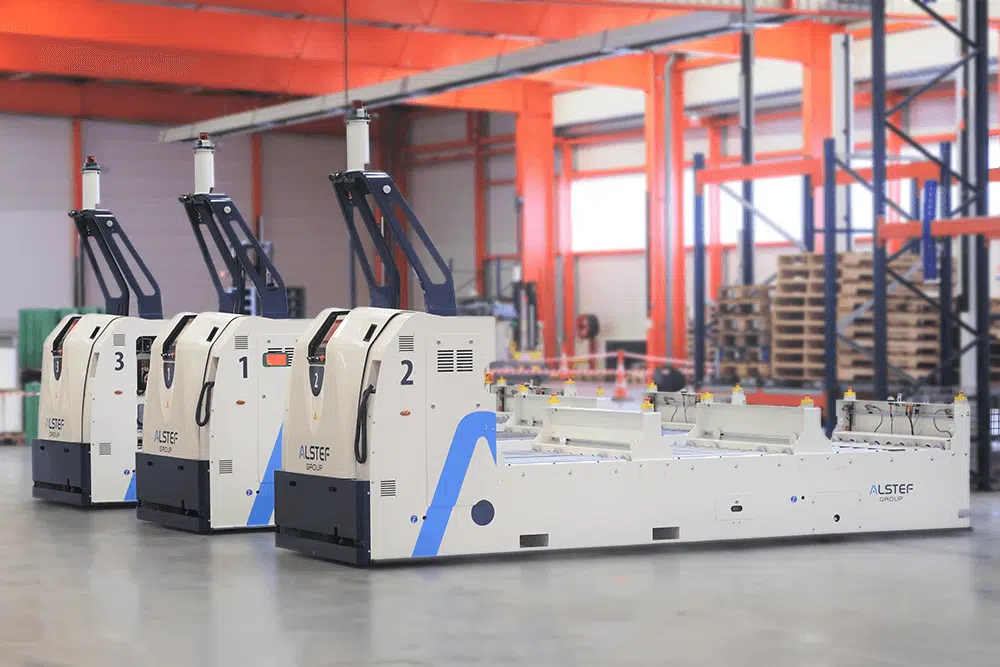 The key element for high flow rates
Designed to handle high flow rates, the CM is fast and used for transfers between production lines, packaging, receiving, shipping or storage areas.
Technical details
From 1 to 4 loads – up to 1500 kg per load
Long-side or short-side loading (rollers, chains, modular belt conveyors)
Transfer height: 500 mm as standard
2 possible levels of transfer (upper level: finished product pallets / lower level: empty pallets)
Kinematics adapted to the environment (single or twin turrets)
Available options: variable dimensions of loads, anti-tipping device, stabilizers, etc.
Very narrow aisle (VNA) storage solution
The GT16 meets the specific requirements related to the automation of very narrow aisle (VNA – Very Narrow Aisles) storages. Loads are picked up and dropped off laterally.
Advantages
Very narrow aisle storage (VNA),
Speed,
Flexibility,
Single pallet access,
Handles the flows of all products: packaging items, raw materials, finished products, etc.
Is suitable for severe environments: including freezing temperature environments.
Technical details
Stacking height: up to 12 m as standard
Maximum loads of 1200kg
Tri-lateral head
Adaptability to the dimensions of your loads
Mixed laser navigation: free + targets
Speed up to 2.5 m / s
Available options: sideshift carriage, positioner, etc.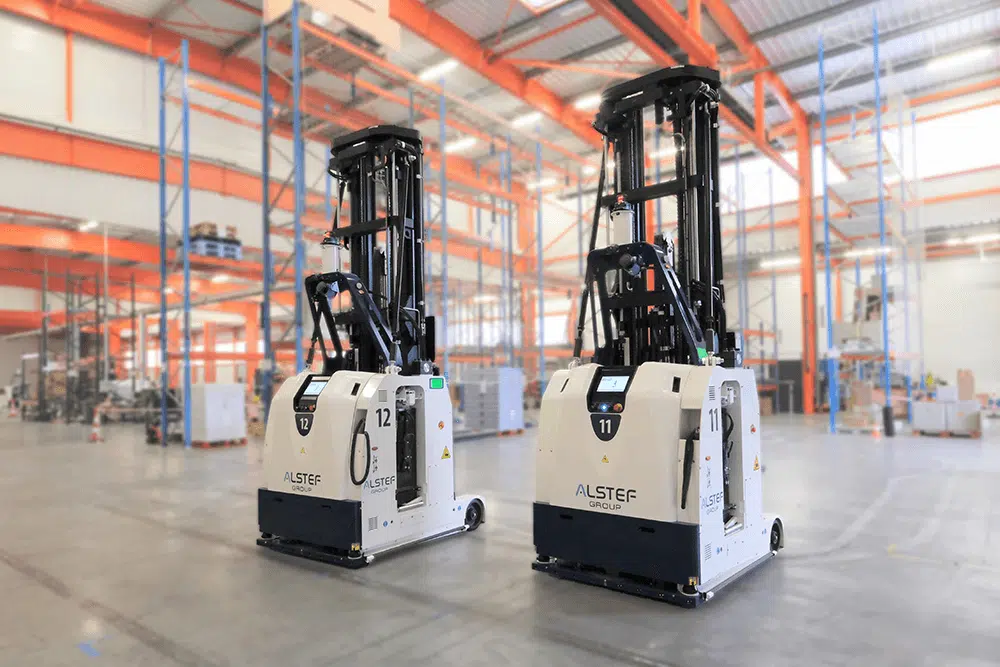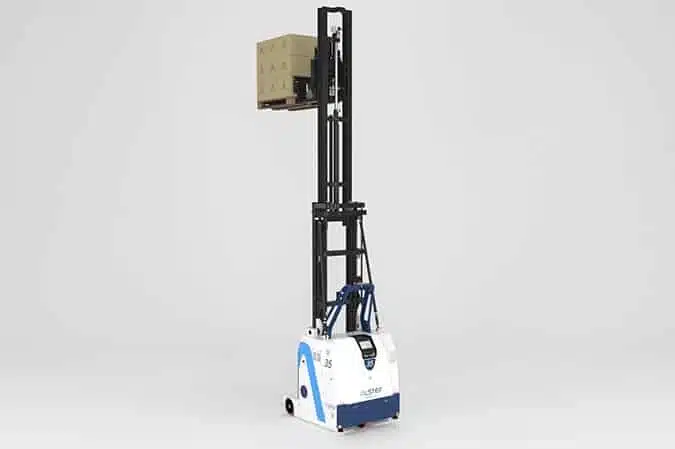 The AGV operating in narrow aisles
Due to its retractable forks, the size of this vehicle is kept compact. It can operate in narrow aisles and meet the needs for storage capacity optimization. By design, it offers great operating safety and performance that is among the highest on the market.
Advantages
Compactness,
Safety,
Stability,
Productivity,
Optimization of storage capacities.
Technical details
Stacking height: up to 9 m as standard
Payload up to 1400 kg
Speed up to 2.5 m / s
Available Options: side-shift carriage, tilt, positioner…
Transport of single pallets
Compact and robust, Loadstar can handle pallets up to 1400 kg and allow to save up to 20% of floor space. This "turtle" AGV-AMR replaces traditional conveyor systems and brings flexibility and reactivity to the heart of systems with strong flow variations.
Advantages
Boosts horizontal transfers instead of traditional conveyors,
Modular, it is suitable for all existing environments,
Optimizes order preparation.
Technical details
Overall length: 1420 mm
Overall width: 790 mm
Platform height retracted: 425 mm
Lifting stroke: 80 mm
360 ° safety
Lithium-Ion battery
Opportunity charging
Your tailor-made agv-amr
For the applications which require a completely personalized response, Alstef Group integrates specific tools on AGV and AMR chassis.
We can support you in your project.
Contact us