Montréal-Pierre Elliott Trudeau International Airport – Transborder Sortation
Specially designed by ALSTEF to meet the specific requirements of the Canada/US trans-border terminal, this baggage handling system integrates the most advanced technologies in baggage handling equipment and management software.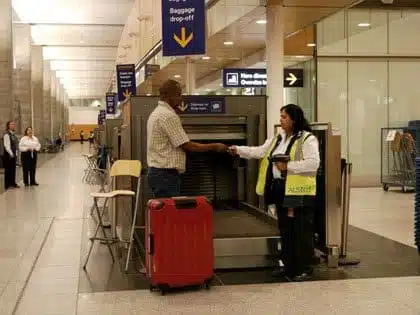 CHARACTERISTICS OF THE CANADA/US TRANS-BORDER TERMINAL
To enable passengers leaving Montreal to fly directly to US airports with no international transit, Aéroports de Montréal (ADM) has built a trans-border terminal (pre-clearance procedure) where passengers cross the Canada/US border before taking their flight. This pre-clearance procedure enables US Customs Officers to screen bags after they have been checked in. This is achieved automatically with the baggage handling system designed by ALSTEF (previously passengers had to go through all controls and the duty free area carrying their bags).
BAGGAGE SCREENING AND SORTING
Passengers check in their bags and drop them at operator-assisted drop-off points. Bags are identified with bar codes printed on the bag tag and delivered to the baggage room by elevators, to a circuit of more than 2 km of tracks that carry individual DCVs (Destination Coded Vehicles). These DCVs transport each single bag through all controls (radiation detectors, imaging, weighing, XRAY and tomography machines). Bags are then individually stored until a decision is made by the Custom Officer. They are either sent to a room to be manually searched in the presence of the passenger, or routed directly to the chute associated with the passenger flight.